News
Dutch nursing home wins innovation award for implementation of Abena Nova
Wednesday, January 23, 2019
The Dutch nursing homes Evean and Philadelphia Care have been named winners of the Dutch 'Nursing homes of the future' challenge.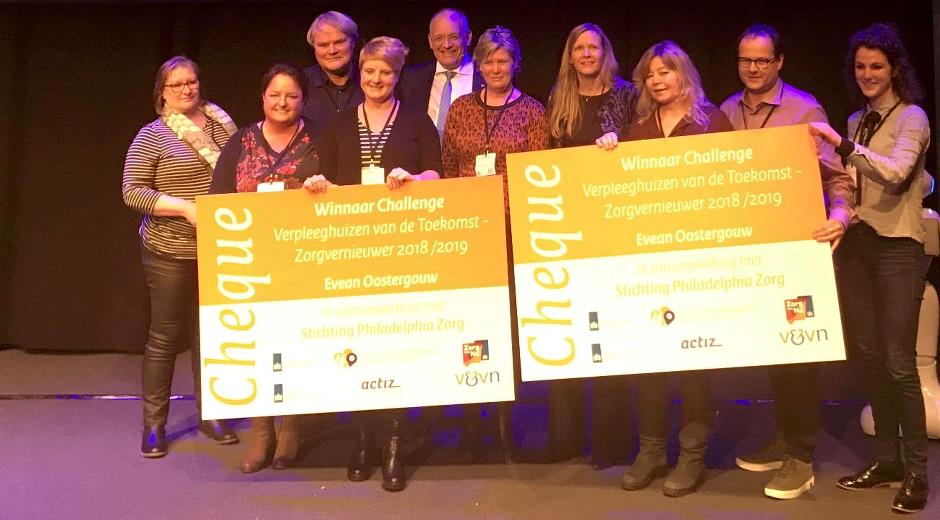 Dutch nursing homes Evean and Philadelphia Care have been named winners of the Dutch 'Nursing homes of the future' challenge as a part of 'Care Innovator 2019'. This was announced Monday by Dutch Secretary-General Erik Gerritsen of the Ministry of Health, Welfare and Sport during the Healthcare & E-Health conference in The Hague, Netherlands.
The award was given by an independent jury based on the results of the successful implementation of the intelligent continence aid 'Abena Nova with MediSens' at Evean Oostergouw nursing home in Zaandam, NL. For the project, Evean had partnered with Philadelphia Care, another nursing home in the Netherlands which has already successfully implemented Abena Nova with MediSens.
Intelligent continence aid with sensors and real-time data
Abena Nova with MediSens is equipped with digital sensors and wireless connection that continuously registers changes in wetness levels of the continence products. This information is shared in real-time with caregivers via the Abena Nova app on their mobile device. This helps caretakers be able to change the residents' incontinence products at exactly the right time.
Test results: fewer wet beds, decreased workload *
A total of 12 residents participated in the Evean Oostergouw challenge. During the test period with the intelligent continence aid, the number of wet beds at Evean decreased by 76%. It also led to a reduction of the overall workload. The average number of product changes went from 3.5 to 2.4 per resident per day; a decrease of 30%.
According to Nicole Bring, Employee Care and Quality of Evean, these changes have a major impact on quality of life for both residents and employees, "Residents no longer need to lie in a wet and cold bed, and now experience less shame and unrest. Employees have less work changing clothes and bedding. This not only saves time, but is also a relief in terms of physical strain. "
20% cost savings, 28% time savings *
On an annual basis, a net cost saving of € 46,000 and a time saving of 1,609 hours of continence care were measured for this trial group consisting of 12 residents; equivalent to 20% and 28% respectively.
Euros and hours that we can now spend on all sorts of other valuable things", says Ester van Holk, Location Manager Oostergouw. "And of course it is also very relevant in view of the current labor market situation. Just like all other institutions in the healthcare sector, we can use every hour of every employee
very well".
Close partner collaboration and attention to cultural change
Throughout the implementation, Evean paid a lot of attention to the challenge of cultural change.
"At first glance, an intelligent continence aid may not be too complex an innovation to implement, while the benefits are obvious. But you are asking employees to start working in a new way. A person-centered approach replaces fixed product changes and existing routines. That is why we have involved employees intensively in the entire process, and looked at how we could best facilitate each team."
In the 'Nursing homes of the future' challenge, the focus was not just on implementing the technological innovation, but on being able to integrate the innovation into the daily work of the staff. In order to successfully do this, each participant in the challenge was expected to form a partnership with an organization who had already successfully implemented the technology.
For Evean, that partner was Philadephia Zorg: "Philadelphia put us in contact with Abena and supported us throughout the entire process," explains Nicole Brink. "We have been grateful for the experience and advice from Philadelphia For example, that we must pay constant attention to the teams working on the floor, so that the employees can quickly and easily ask for help and be encouraged in the work."
FOR MORE INFORMATION PLEASE CONTACT:
Dag Winther Svendsen
Group Product Manager, Abena Nova
dasv@abena.dk
+45 51 58 16 42
ABOUT ABENA NOVA WITH MEDISENS:
Abena Nova is the world's first intelligent incontinence product for everyday use. Abena Nova is a disposable incontinence product with built-in sensors and a small discrete clip attached to the product. The sensors register when the product is wet and send an alert to the caregivers' smartphones or tablets. www.AbenaNova.com
* Source of figures: Final report 'Implementation of smart incontinence material at Evean Oostergouw' available for download from Abena NL (in Dutch only).
Dutch nursing home wins innovation award for implementation of Abena Nova
/Default.aspx?ID=22179&newsid=665&Action=1&currentPage=7&M=NewsV2&PID=191247