News
Abena showcases digital health care solution as part of royal business delegation to France
Thursday, October 3, 2019
Abena will participate as part of the business delegation to France accompanied by the Danish Crown Prince Couple on October 6-8, 2019. The goal is to strengthen the close ties between the French market and Abena's innovative health care solutions.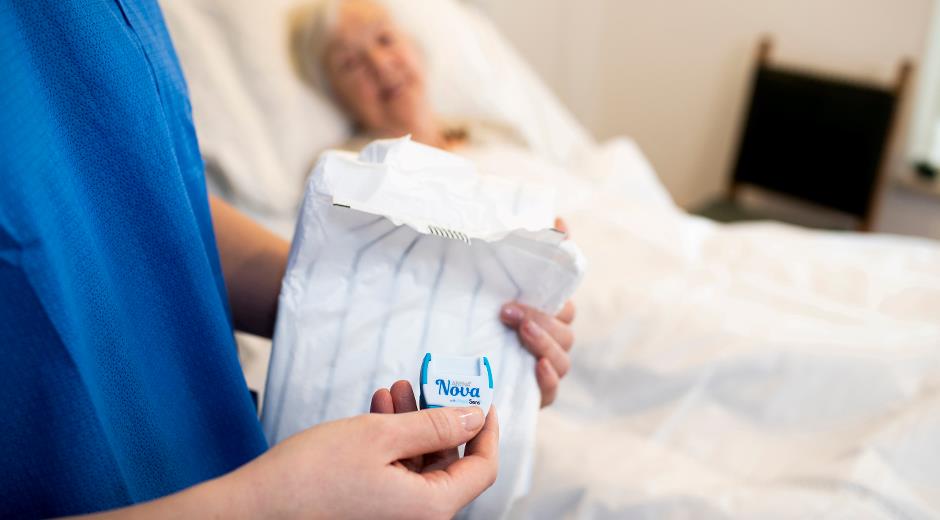 Abena's delegation will focus on innovative health care solutions, including presenting Abena Nova with MediSens. Abena Nova, the world's first digital incontinence aid for everyday use, is currently being introduced to the French market through a series of trials in French nursing homes.
Abena Nova: The world's first digital incontinence aid for everyday use
With a mission of improving quality of life and dignity for people living with incontinence, Abena Nova fuses the clinical expertise and high-quality diaper manufacturing from Abena with the innovative wearable sensor technology of MediSens Wireless.
Ongoing case studies have shown that successful implementation of Abena Nova results in less unnecessary changes, less time in a wet product and improved skin conditions, among others. This means more time for quality care and improved working conditions for caregivers.
Results have been demonstrated through a series of trials throughout Europe, including Denmark, the Netherlands, Germany, Sweden and the US, and ongoing launches in Australia, Japan and France.
Innovative solutions for a more sustainable tomorrow
Our needs as individuals and health care providers are changing. The health care sector faces challenges of multi-resistant bacteria and a growing population over the age of 80. With more than 50 years of experience in health care, Abena has seen this change first-hand. It is more important than ever to keep our focus on the needs of tomorrow's essential health care needs and to continually challenge the way we approach innovation in health care.
"Being innovative is a part of our company DNA. Our business and product range must follow market trends as well as digital developments. This is the reason for investing in unique solutions such as Abena Nova," says CEO of Abena, Preben Terp-Nielsen.
More than 30 years of French cooperation
France is the world's 6th largest economy with a population of about 66 million. Often characterized by a modern and innovative lifestyle and economy, Abena already has strong business ties to France. Abena Frantex, Abena's French subsidiary, became a part of the Abena group in 1992, but has been producing absorbent products for the Abena group since 1983.
Abena's production lines in France were recently expanded in a large-scale venture investment, further proof of Abena's commitment to the French market. With these new investments in state-of-the art production lines, Abena Frantex is now able to produce more than 500 pieces per minute, or 135 million per year, with automatic quality control.
The new production machines are specially designed to produce innovative products for the health care sector. In addition, they exemplify Abena's long-standing ambition to supply health care solutions where ethics, environment, and innovation go hand-in-hand for the good of patients and caregivers around the world.
"We want to continue developing and providing innovative solutions to users of continence products so that their quality of life is not diminished because of incontinence", said Olivier Barbet-Maillot, Président Directeur Général, Abena Frantex.
Read more about the business delegation here.
For more information please contact:
Eva Sand, Marketing and Digital Director
(+45) 60261464
Facts:
About the Abena Group:
Abena is one of the leading manufacturers of quality solutions for incontinence. Abena's promise is to improve the quality of life for those with incontinence. The Group is represented by subsidiaries in 13 countries supplying more than 30,000 different products and operating in 80+ countries in the world. Founded in 1953, Abena is a family-owned Danish production and commerce company based in Aabenraa in Southern Jutland. www.Abena.com
Abena Nova with MediSens:
Abena Nova is the world's first digital incontinence product for everyday use. Abena Nova is a disposable incontinence product with built-in sensors and a small discrete clip attached to the product. The sensors register when the product is wet and via the clip sends a notification to the caregivers' smartphones or tablets. www.AbenaNova.com
Abena showcases digital health care solution as part of royal business delegation to France
/Default.aspx?ID=22179&newsid=696&PID=191247&M=NewsV2&Action=1&currentPage=3