News
ABENA invests in R&D with particle analysis equipment
Thursday, April 13, 2023
As the first production company in the Absorbent Hygiene Products industry, ABENA acquires particle analyzing equipment to advance product development and quality control of its absorbent products.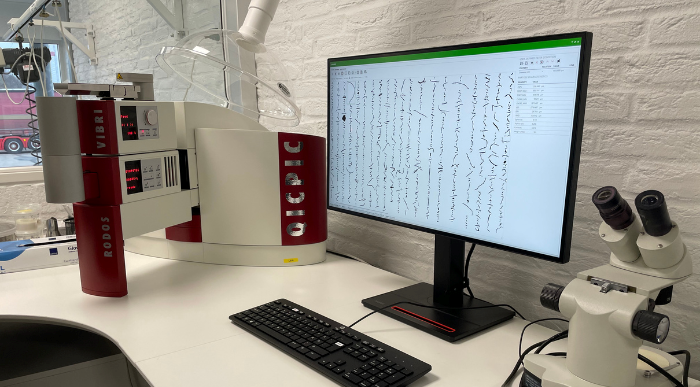 The new analyzing equipment can measure and evaluate every single particle and fiber within a product. This opens up a very detailed mapping of the size, weight, and shape of raw materials and raw material composition within, for instance, ABENA's adult incontinence products, baby diapers, and underpads.
These insights make it possible to choose the best raw materials and optimize production lines to reach the highest quality from the raw materials. That accounts for raw materials such as cellulose fluff and superabsorbent (SAP), from which an absorbent core is made. Depending on the product type, the quality of the raw materials, and the converting line, the length of the fluff fibers and SAP particles differs.
"There is a clear link between product quality, production processes, choice of raw materials, development of new products, and safety. By knowing the exact length and look of each particle and fiber within the absorbent products we produce, we can heighten the product quality. At the same time, we can document the quality of the raw material at a very detailed level, which helps increase the safety of using and producing the products", says Frank Lundsberg, Head of Research and Development at ABENA Produktion A/S.
State-of-the-art equipment
The particle analysis is made with the help air-flow system equipped with a LED stroboscope. In detail, the equipment works with a combination of clean, pressured air and a laboratory vacuum cleaner. The materials are filled into a funnel at one end of the vacuum cleaner, making the particles fly past a high-speed camera that can take up to 13,500 images per minute. Within a minute, the length and weight of the particles are automatically calculated based on the camera images. The equipment can measure particles and fibers ranging from <5 µm to 5 mm (> 5000 µm).
"Right now, we use the equipment to analyze raw materials in our absorbent products. But the equipment is not limited to analyzing fluff and SAP. It can measure any particle within any product," says Frank Lundsberg.
ABENA invests in R&D with particle analysis equipment
/Default.aspx?ID=22179&newsid=930&Action=1&M=NewsV2&PID=191247