News
Abena Antimicrobial Gloves – a new approach to health care
Wednesday, January 30, 2019
As the first glove in the world to offer high levels of antimicrobial protection while being non-leaching, Abena Antimicrobial Gloves are a gamechanger for the world of infection prevention
Our needs as individuals and healthcare providers are changing every day. We live longer. We face challenges of multi-resistant bacteria and a growing population over the age of 80. It is more important than ever that we keep our focus on tomorrow's essential healthcare needs.
Abena is proud to present the new Abena Antimicrobial Gloves: a new type of medical glove with built-in antimicrobial technology to fight infection and combat antimicrobial resistance.
Activated by light and oxygen, and able to kill up to 99.999% of microbes, Abena Antimicrobial Gloves provide an extra active layer of protection to healthcare around the world.
Abena Antimicrobial Gloves play an active role in reducing the spread of infections
Every year, healthcare associated infection cause unnecessary suffering an increasing medical costs for millions of patients and their families around the world. These prolong hospital stays, increase the risk of post-operative complication, increase resistance to antibiotics and result in unnecessary deaths and massive financial loses to the health care system.
Abena Antimicrobial Gloves play an active role in preventing and reducing spread of infection, serving as an active barrier between microbes and your hands, thereby actively reducing the risk of transmission from an infection source to a susceptible patient.
Find out more about Abena Antimicrobial Gloves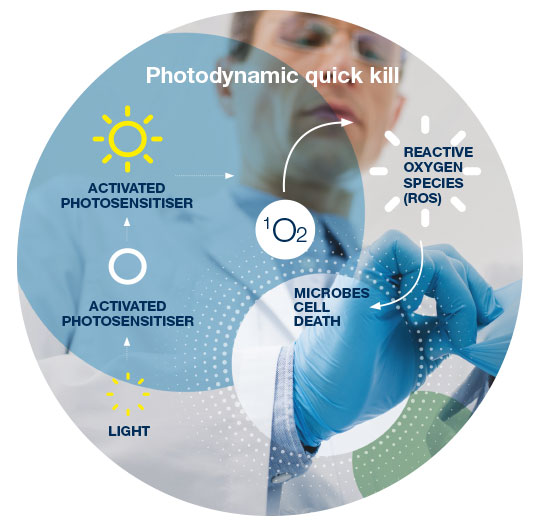 No impact on bacterial resistance
The potential for development of bacterial resistance to the active has been assessed as 'low'. Generally, oxidative antimicrobials, such as those in Abena Antimicrobial Gloves, are viewed as having low probability for development of resistance by the EU Scientific committee. In addition, Abena's Antimicrobial Gloves have been proven safe for medical use and for use as PPE (personal protective equipment).
For more information please contact:
Khalid Elamri, Global Category Manager - Gloves
+45 5158 0477
khel@abena.com
For press-related inquiries please contact
Eva Sand, Marketing Director
evsa@abena.com
Abena Antimicrobial Gloves – a new approach to health care
/Default.aspx?ID=22179&newsid=664&Action=1&currentPage=6&M=NewsV2&PID=191247